As the days grow shorter and the air turns crisper, there's a palpable sense of excitement in the Philippines. The scent of freshly baked pastries wafts through the streets, and cheerful carols fill the air. It can only mean one thing: Christmas is around the corner. This year, the Philippines is poised to showcase a delightful array of Christmas cake designs that encapsulate the spirit of the season.
Rectangle Christmas Cake Designs: A Modern Twist on Tradition
In the midst of the bustling holiday preparations, the rectangle Christmas cake designs have emerged as a modern revelation. With clean lines and a sleek presentation, these cakes offer a contemporary take on a classic tradition. Imagine a canvas of rich, moist cake adorned with intricate decorations, evoking a sense of understated elegance. These designs bring forth a refreshing departure from the more conventional circular cakes, giving them a distinctive presence on any festive table.
Chocolate Dedication Cake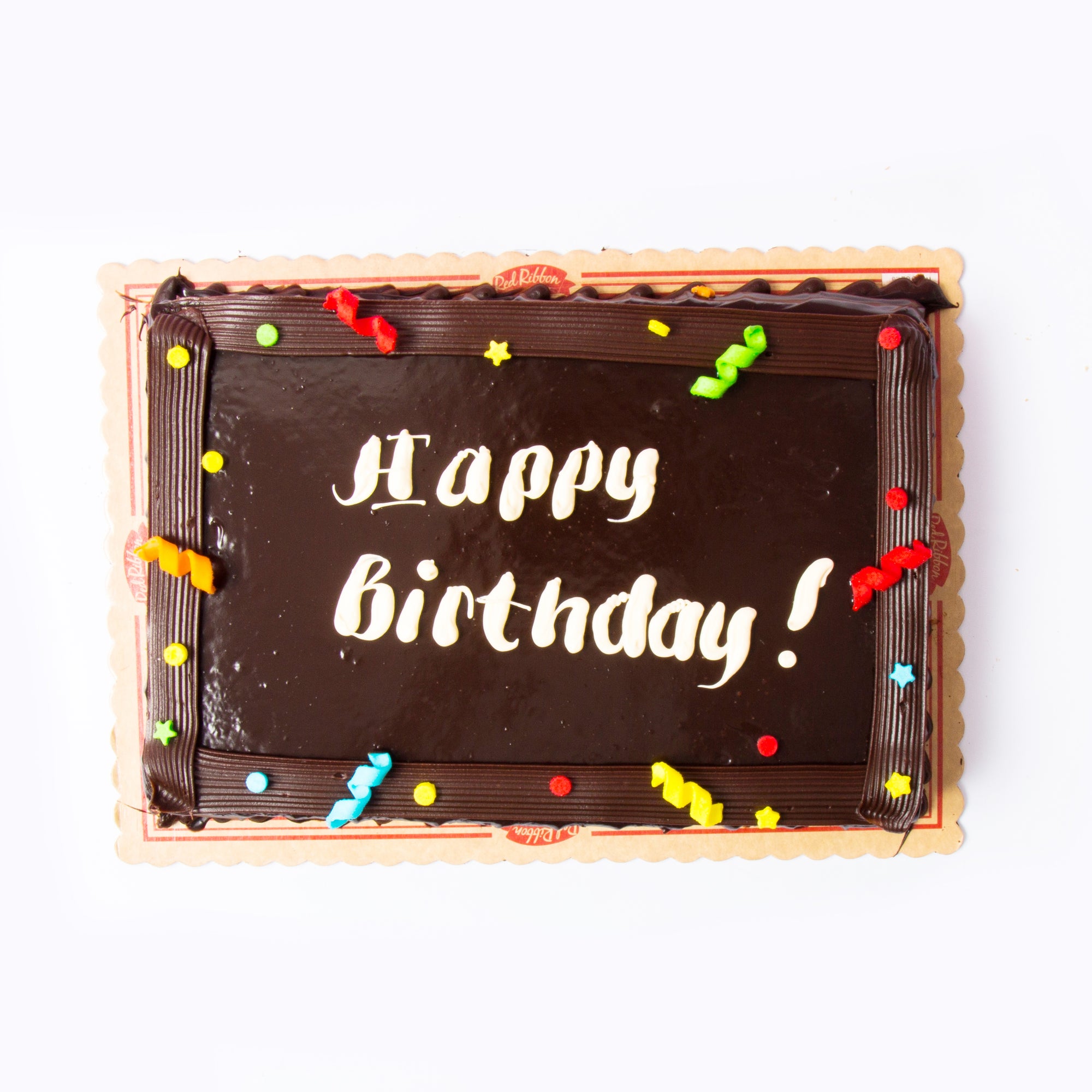 Indulge in the decadent delight of our exquisite rich chocolate chiffon cake, generously adorned with a fudgy icing and filling. Crafted in a convenient quarter size, this delectable treat is crowned with a sprinkling of vibrant sugar confetti, playful dots, and charming stars, adding a whimsical touch to your celebration. Personalize your cake with a standard, customizable message, making it a heartfelt gift or a sweet expression of your sentiments. Elevate your festivities with this delectable creation, sure to leave a lasting impression on your taste buds and hearts alike.
Sugary Celebrations Gift Set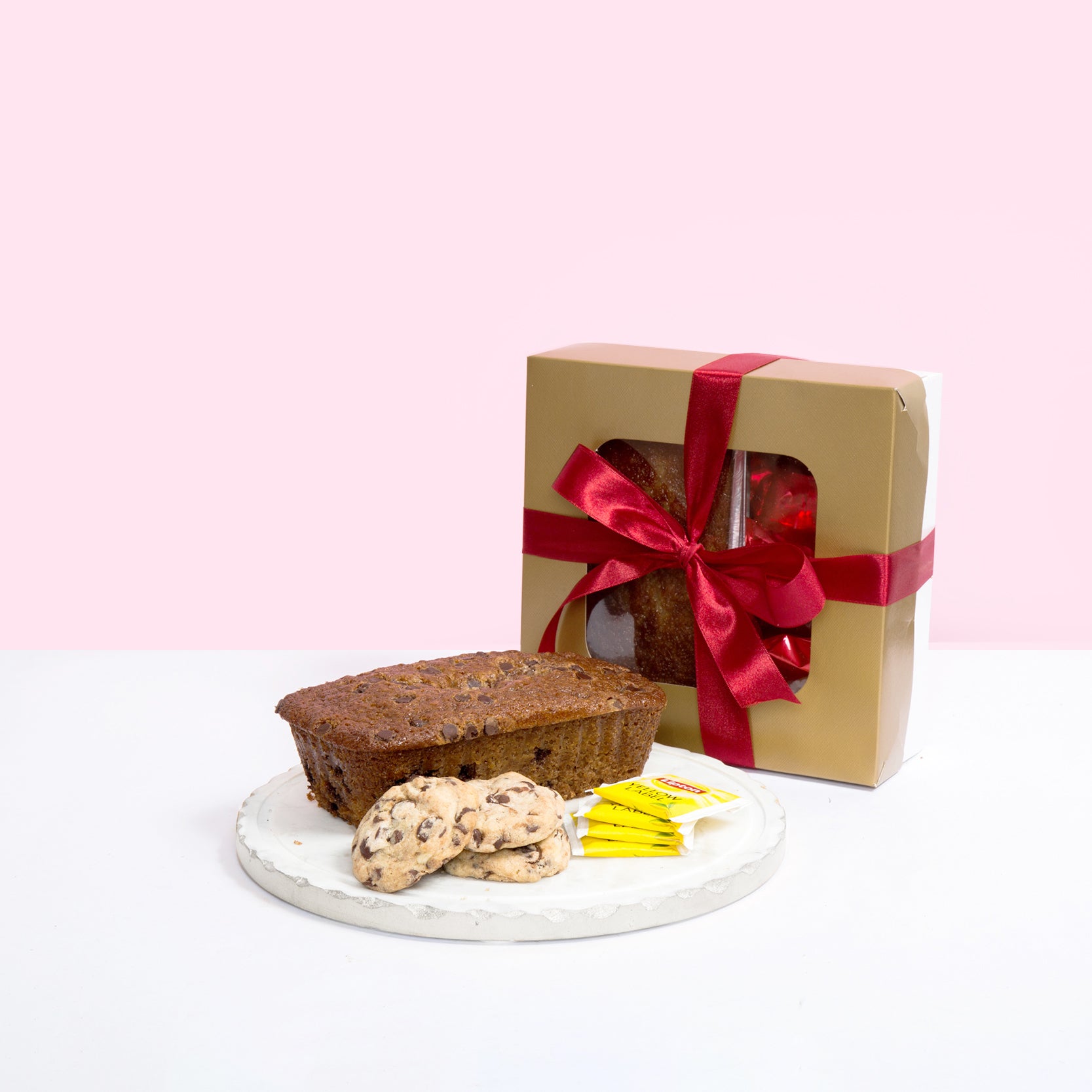 This thoughtfully curated gift set encompasses a moist, delectable banana loaf, along with three generously sized, melt-in-your-mouth chocolate chip cookies. To complete the experience, savor the soothing notes of four premium green tea bags. Our cookies boast a harmonious blend of fine ingredients including flour, leaveners, butter, and rich dark chocolate chips, while the banana bread showcases a symphony of bananas, flour, leaveners, and a hint of sweetness from sugar and eggs. Elevate your moments of indulgence with this exquisite assortment.
Christmas Cake Decorations: Where Artistry Meets Taste
Christmas cake decorations have evolved into a realm of true artistry. Skilled bakers across the Philippines are wielding their icing bags with precision, creating edible masterpieces that tell stories of warmth and festivity. From delicate snowflakes to jolly Santas, each decoration is meticulously crafted, inviting not just the eyes but also the taste buds on a delightful journey. The array of Christmas cake decoration ideas seems boundless, offering something to cater to every taste and aesthetic preference.
Rainbow M&M Cake
Experience a burst of color and flavor with our captivating M&M's cake, a true celebration of festive joy. Skillfully crafted with a delectable blend of butter, sugar, flour, eggs, and milk, this cake embodies the vibrant spirit of the holiday season. The playful addition of M&M's, generously scattered throughout, promises a delightful surprise in every bite. The harmonious blend of sweetness and chocolate makes it a must-have for any celebration. This cake is more than a dessert; it's a jubilant expression of the holiday spirit, encapsulated in every colorful, chocolate-coated mouthful
Simple Christmas Cake Designs: Less is More
In the midst of the elaborate designs, there's a certain charm in the simplicity of Christmas cake designs. A single, elegant ribbon of icing, a sprig of holly, or a dusting of powdered sugar can evoke a sense of nostalgia and purity. These designs, in their unassuming beauty, remind us that sometimes, less truly is more. They allow the cake's inherent deliciousness to take center stage, celebrating the heartwarming flavors that define Christmas.
Strawberry Shortcake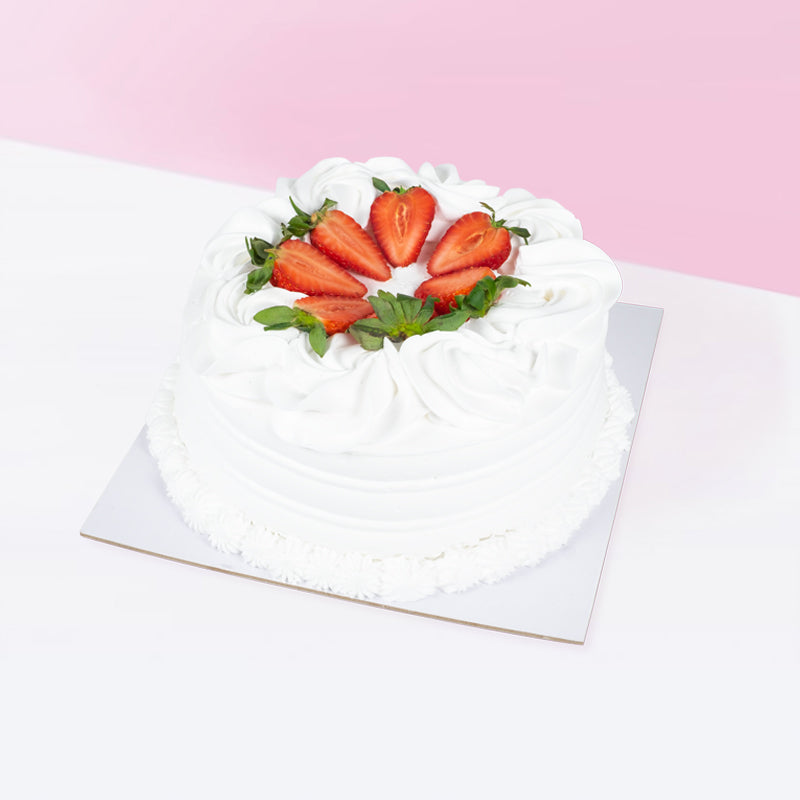 Crafted on a foundation of light vanilla cake, each layer is generously adorned with fluffy whipped cream, a succulent strawberry jelly center, and crowned with plump, juicy strawberries. This symphony of flavors and textures is a testament to culinary craftsmanship, destined to elevate your celebrations or satisfy even the most discerning sweet tooth. With every blissful bite, experience a burst of freshness that lingers, making it a delightful choice for your next cherished moment.
Hershey's Mocha Chiffon Cake
Delight in our expertly crafted mocha cake, a culinary marvel that marries the exquisite taste of Hershey's chocolate with the finest dark coffee. Each mouthful reveals a symphony of lush, velvety flavors, expertly balanced with premium butter, sugar, flour, and eggs. With every scrumptious portion, relish the richness of top-tier ingredients, transforming this creation into an extraordinary culinary journey. Embrace the epitome of indulgence, baked into every layer with precision, and let the opulent blend of Hershey's chocolate and dark coffee transport your palate to unparalleled heights of epicurean delight.
Blackout Cake
Experience the sheer luxury of our luscious triple-layered chocolate cake. It's a moist, velvety marvel that encapsulates the essence of chocolate indulgence. Each layer is a harmonious fusion of deep, opulent cocoa notes, expertly joined together by a heavenly chocolate buttercream frosting that promises pure delight. Adorning the exterior is a delicate crumb coating, providing a delightful textural contrast. This masterpiece is designed to elevate your special moments, where every bite speaks volumes about the craftsmanship and devotion poured into its creation. A genuine feast for the senses, this cake is a celebration in itself.
Bento Cake Christmas Design: A Feast for the Eyes and Palate
Source: Pinterest
One of the most intriguing trends in Christmas cake designs for 2023 is the emergence of Bento cake designs. These creations are a delightful fusion of culinary art and Japanese tradition, presenting a visual feast that is almost too beautiful to eat. Picture a cake transformed into a miniature winter wonderland, complete with snow-covered trees and frolicking reindeer. These designs evoke a sense of childlike wonder and add a touch of whimsy to the festive spread.
Santa Bento Cake
Source: Pinterest
The Santa Bento Cake is a delightful embodiment of festive cheer and culinary artistry. Crafted with meticulous attention to detail, this confectionary masterpiece transforms cake into a miniature winter wonderland. Picture a jolly Santa Claus, complete with his rosy cheeks and iconic red suit, nestled amidst a landscape of snow-covered trees and playful reindeer. The attention to detail is astonishing, making it almost too beautiful to devour. This cake is a true showstopper, guaranteed to be the centerpiece of any Christmas celebration. It captures the magic of the season in sugary form, inviting both young and old to revel in its whimsical charm.
Merry Christmas Cake Design: A Message in Sugary Script
What better way to spread the festive cheer than with a cake that literally spells it out? "Merry Christmas" cake designs have become a heartwarming tradition, allowing bakers to convey their warmest wishes in sugary script. The elegant script, often adorned with festive motifs, serves as a reminder of the true essence of the season - spreading joy and goodwill to all.
Merry Christmas Cake
Source: Pinterest
The "Merry Christmas Cake" is the epitome of festive indulgence. With its meticulously crafted sugary script, adorned with whimsical motifs, this cake exudes warmth and holiday cheer.
Xmas Cake Decorations and Designs: Celebrating the Season in Style
In addition to the traditional motifs, Xmas cake decorations this year have taken a step towards embracing a blend of the classic and the contemporary. Elaborate wreaths of candied holly and ivy intermingle with minimalist, geometric patterns. These Xmas cake designs capture the essence of the season in a manner that is both nostalgic and forward-looking.
Alpine Christmas Cake
Source: Pinterest
The Alpine Christmas Cake is a marvel of confectionary artistry, transporting you to a world of sugary enchantment. Its exterior resembles a snowy landscape, with the cake's surface delicately dusted in a fine layer of powdered sugar. Miniature gingerbread houses, adorned with intricate details, dot the landscape, adding a whimsical touch to this wintry scene.
Conclusion
As we marvel at the array of Christmas cake designs in 2023, it's worth taking a moment to reflect on the enduring nature of these traditions. Each cake is not just a confectionery masterpiece but a symbol of the love, care, and creativity that goes into making the holiday season special. It's a testament to the power of shared experiences and the joy that comes from gathering around a table filled with festive delights.
So, as you prepare to celebrate this most wonderful time of the year, let the Christmas cake be more than just a sweet treat. Let it be a reflection of the warmth, love, and joy that define the holiday season in the Philippines and around the world. Merry Christmas!